FEAST OF THE PATRON SAINT OF SAN VITO LO CAPO (13th - 15th JUNE)
FEAST OF THE PATRON SAINT OF SAN VITO LO CAPO (13th - 15th JUNE)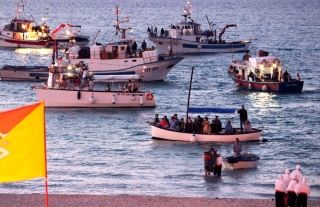 From 13 to 15 June, San Vito lo Capo celebrates his patron saint.
Like every year, the fishermen of the village carry the statue of the martyr in a procession in the sea, to then bring it back to shore with the evocative historical re-enactment of the landing of the saint, at sunset, between lights and fireworks, a moment thrillingly exciting, a tradition that attracts more and more people every year.
Once in the evening the celebrations continue with games, musical performances and exhibitions of local products.
An event of great emotion that marks the beginning of the summer season every year.
Find out our SPECIAL OFFER for this event!